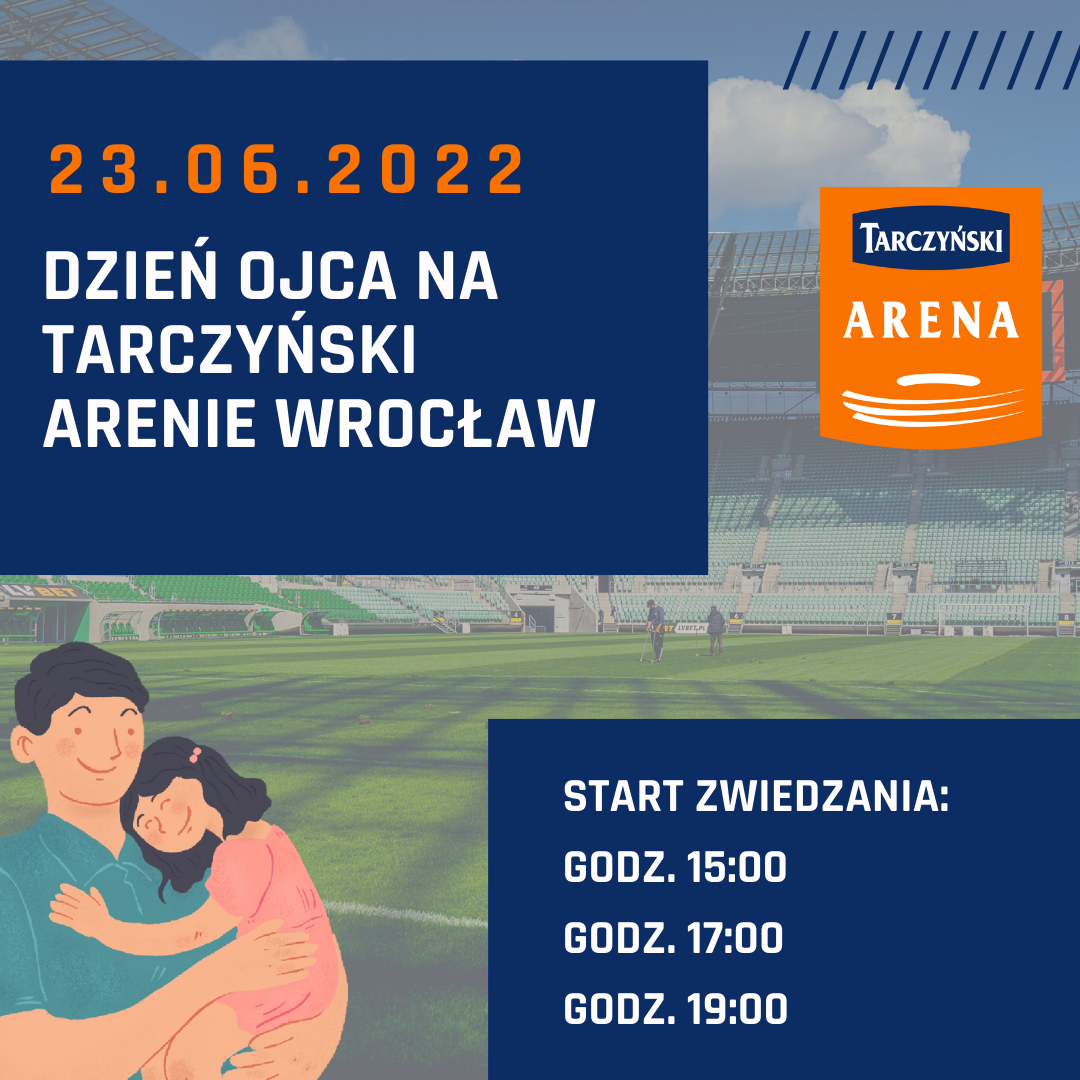 Dzień Ojca na Tarczyński Arenie Wrocław
Rodzinne zwiedzanie Tarczyński Areny Wrocław z okazji Dnia Ojca w specjalnej cenie! Wspólne kibicowanie ojców z dziećmi na wrocławskim stadionie to niemal tradycja… W związku z tym, w szczególnym dniu Święta Taty – 23 czerwca 2022 r. – obowiązuje specjalny cennik biletów: każdy ojciec, który pojawi się z dzieckiem na zwiedzaniu areny o godzinie 15:00, 17:00 lub 19:00, otrzyma bilet w cenie ulgowej (17 zł), a wstęp dziecka będzie bezpłatny!
Przypominamy: podczas zwiedzania Tarczyński Areny Wrocław, każdy uczestnik będzie miał okazję obejrzeć między innymi największy w Polsce sektor kibiców gości, szatnię, w której aż trzynastokrotnie gościła reprezentacja Polski, a na co dzień korzystają z niej zawodnicy Śląska Wrocław, a nawet specjalny areszt stanowiący część obiektu. Bilety są do nabycia bezpośrednio przed zwiedzaniem – zalecane jest jednak pojawienie się minimum 15 minut przed planowaną godziną rozpoczęcia zwiedzania. Miejscem zbiórki jest recepcja W1 na poziomie 0, pod esplanadą (zalecany wjazd bramą A, parking płatny zgodnie z cennikiem operatora). Czas całości zwiedzania to około 60 min.
Aby skorzystać z opisywanej promocji, w kasie muszą pojawić się dwie osoby: ojciec/opiekun oraz dziecko; jeden ojciec/opiekun może skorzystać z maksymalnie jednego gratisowego biletu dla dziecka; w przypadku większej liczby zwiedzających, pozostałe osoby obowiązuje ulgowy bilet wstępu. Dziecko nie może skorzystać z darmowego biletu bez obecności ojca/opiekuna. Wszystkie mamy mogą skorzystać z ulgowego biletu wstępu, jednak w tym przypadku nie przysługuje gratisowy bilet dla dziecka. Informacje dotyczące zwiedzania Tarczyński Areny Wrocław dostępne są na stronie: www.tarczynskiarenawroclaw.pl/zwiedzanie-z-przewodnikiem/.