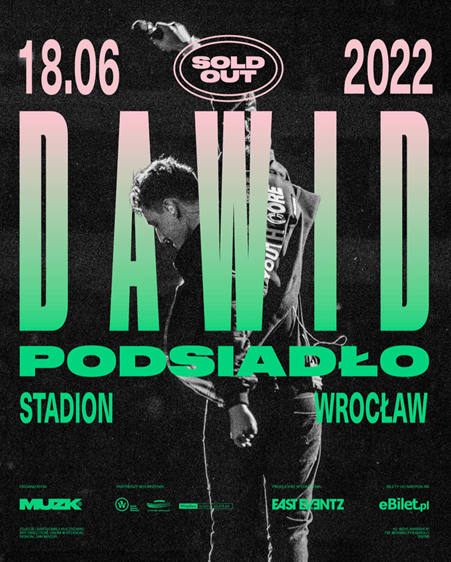 Szanowni Państwo, poniżej informacja od organizatora wydarzenia:
Drodzy Klienci,
Od ponad roku staramy się znaleźć bezpieczny i zgodny z obowiązującymi przepisami sposób na realizację koncertów stadionowych Dawida Podsiadło.
Wszyscy byliśmy bardzo podekscytowani myślą o powtórzeniu emocji, które udzieliły się nam w 2019 roku podczas koncertu na PGE Narodowym. Wasz ogromny entuzjazm i wykupienie wszystkich biletów w ciągu 24 godzin dodatkowo rozbudziły nasze i Wasze oczekiwania. To ma być największa trasa koncertowa polskiego Artysty od dziesięcioleci.
Odkąd pandemia uniemożliwiła organizowanie wydarzeń z udziałem publiczności szukaliśmy sposobu żeby zaplanowane koncerty odbyły się w pełnym zakresie tj. z udziałem takiej liczby uczestników, która kupiła bilety. Odrzuciliśmy zatem pomysły podzielenia wydarzeń na kilka mniejszych lub zmianę lokalizacji chcąc zagwarantować publiczności scenariusz, który przyświecał nam w chwili ogłoszenia koncertów.
Niestety, obowiązujące wciąż ograniczenia dotyczące organizacji imprez masowych, zbliżająca się do kraju kolejna fala pandemii, zapowiadane przez rząd obostrzenia epidemiologiczne oraz wynikający z tego brak pewności co do realnej możliwości przeprowadzenia imprez, zmuszają nas do podjęcia trudnej decyzji o ponownym przeniesieniu koncertu zaplanowanego na 18 czerwca 2022 roku.
Ogromna większość z Was kupiła swoje bilety jeszcze w grudniu 2019, kiedy nikt nie słyszał o epidemii COVID-19 i nie mógł przewidzieć jej konsekwencji. W imieniu swoim i Dawida Podsiadło, bardzo dziękujemy, że nadal jesteście z nami i wspieracie nas cierpliwie czekając na zaplanowane koncerty. Wiemy, że minęło już dużo czasu, ale prosimy zachowajcie swoje bilety także tym razem. Spotkajmy się na wspólnym święcie muzyki w formule, na którą wszyscy czekamy. Bez lęku o nasze wspólne zdrowie.
Obowiązujące aktualnie przepisy wprowadzające liczne ogarniczenia, nakazy i zakazy w związku z wystąpieniem stanu epidemii Covid-19, a także zapowiedzi Ministra Zdrowia nie pozostawiają wątpliwości, że jedynym sposobem na realizację koncertów w zaplanowanej przez nas formule jest wprowadzenie biletów dla osób posiadających certyfikat szczepienia przeciw COVID-19. Takie rozwiązanie daje nam pewność, że nowy termin koncertu nie ulegnie już zmianie. To także polityka, którą wprowadzili już wszyscy najwięksi organizatorzy koncertów na całym świecie i daje realną szansę na powrót do spotkań na festiwalach.
We wrześniu wszyscy posiadacze biletów otrzymają link umożliwiający bezpłatną wymianę na bilet SAFE PASS, który daje gwarancję i pewność udziału w wydarzeniu. Wymiana biletu będzie jednoznaczna z oświadczeniem, że jego posiadacz w dniu koncertu będzie zaszczepiony przeciwko COVID-19.
W puli pozostaną także bilety dla osób nieposiadających certyfikatu szczepień, ale ich ilość i dostępność oraz faktyczna możliwość wykorzystania będzie wynikała z przepisów obowiązujących w chwili ich sprzedaży i w dacie koncertów. Dziękujemy że jesteście z nami – do zobaczenia pod sceną.
Szczegółowe informacje dotyczące biletów znajdą Państwo na stornie e-bilet.pl lub bezpośrednio pod tym linkiem: https://bit.ly/37Z6BnT