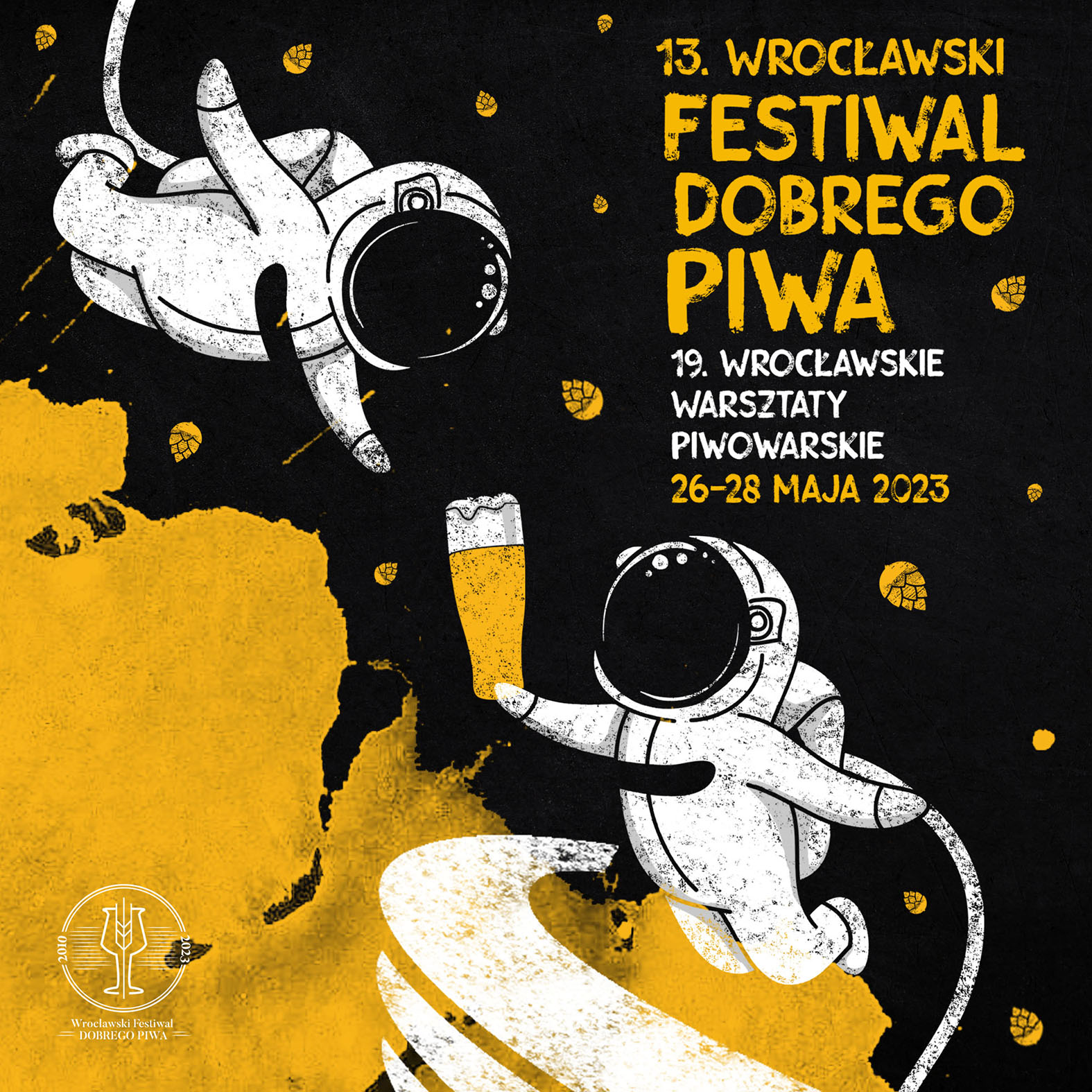 13. Wrocławski Festiwal Dobrego Piwa
Warsztaty piwowarskie, oryginalne jedzenie, atrakcje dla dzieci, szkolenia sensoryczne, muzyka i piwa z najlepszych polskich browarów rzemieślniczych – m.in. to czeka nas podczas 13. edycji Wrocławskiego Festiwalu Dobrego Piwa. Największy i najstarszy festiwalu piwa kraftowego w Polsce odbędzie się w dniach 26-28 maja na Tarczyński Arenie Wrocław.
Na esplanadzie stadionu stanie około 80 stoisk najlepszych polskich browarów serwujących piwa w wielu stylach i smakach. Lagery, treściwe portery, stouty, kwaśnie soury, pszeniczne, pachnące chmielami IPA czy te z nietypowymi dodatkami – to tylko wycinek piwnego świata, jaki będziemy mogli poznać na 13. WFDP.
Nie zabraknie oczywiście browarów z Wrocławia i z Dolnego Śląska, będzie też Strefa Debiutantów, czyli browarów, które na WFDP pojawią się po raz pierwszy. Będzie też, jak co roku, specjalnie zaprojektowane, kolekcjonerskie szkło festiwalowe.
Spotkanie piwowarów i festiwalowe piwo
Tradycyjnie odbędzie się spotkanie piwowarów podczas Wrocławskich Warsztatów Piwowarskich – to będzie już ich 19. odsłona.
Piwo festiwalowe na 13. WFDP uwarzy Browar TankBusters – ich Pastry Killer vol.2, czyli piwo w stylu sour z owocowymi dodatkami (m.in. z mango, morelą i kokosem) wygrał w głosowaniu uczestników 12. edycji na najlepsze piwo tamtej odsłony festiwalu. Było to prawdziwe "wejście smoka" – TankBusters byli na ubiegłorocznym festiwalu gościem Strefy Debiutantów.
W tym roku również wręczymy Laury, czyli nagrody za najlepsze piwo 13. WFDP, które wybierze festiwalowa publiczność.
Po raz trzeci przyznane zostaną też Honorowe Nagrody WFDP. To wyróżnienia dla tych, którzy poszerzają nasze piwne horyzonty działając często nie w browarach, ale na innych polach piwnej rewolucji.
Piwne szkolenia i pyszne jedzenie
Jak co roku w ramach WFDP odbędą się piwne szkolenia o różnym stopniu zaawansowania. Będzie coś "nie tylko dla piwowarów", szkolenie dla sędziów piwnych oraz szkolenie degustatorskie.
Podczas festiwalu będzie okazja poznać inne trunki rzemieślnicze, czyli m.in. wina, cydry i miody pitne.
Nie zabraknie pysznego jedzenia – o strefę gastronomiczną zadbają po raz kolejny Wrocławscy Ulicożercy, świetnie znani w stolicy Dolnego Śląska tropiciele i specjaliści od oryginalnych smaków.
Będą dyskusje, spotkania z osobami z branży piwowarskiej i gastronomicznej, konkursy z nagrodami na festiwalowej scenie i strefa sportów miejskich. Dla najmłodszych będą kolorowe "dmuchańce" i inne wesołe atrakcje.
Zero jednorazowego plastiku na stosikach piwnych
Wrocławski Festiwal Dobrego Piwa dbając o środowisko w ubiegłym roku całkowicie wyeliminował ze stoisk piwnych plastikowe kubki jednorazowe. Tak będzie też w tym roku.
– Piwo najlepiej smakuje ze szkła. Zachęcamy do zakupu szkła festiwalowego, które dostępne będzie w sklepiku festiwalowym i na stoiskach piwnych. Browary będą mieć też swoje szkło, poza tym można przyjść na festiwal z własnym szkłem – mówią organizatorzy. Na terenie festiwalu będą punkty do własnoręcznego płukania szkła.
Na stoiskach piwnych będą też kubki wielorazowe Kocham Piwo – będzie je można kupić i zabrać ze sobą do domu. Będą też punkty wypożyczania kubków wielorazowych. Aby je wypożyczyć wystarczy wpłacić kaucję – pieniądze wrócą do nas, gdy oddamy kubek w punkcie wypożyczenia.
***
Zanim spotkamy się na wrocławskim stadionie, śledźcie festiwalowego Facebooka oraz stronę internetową www.festiwaldobregopiwa.pl. Na niej znajdziecie m.in. "Poradnik początkującego piwosza" polecany szczególnie tym, którzy swoją przygodę z piwem rzemieślniczym dopiero chcieliby zacząć oraz "Piwną Książkę Kulinarną" z przepisami na pyszne dania, w których ważną rolę odgrywa piwo. Na stronie wkrótce dostępny będzie także pełen program sceny festiwalowej.
***
Godziny otwarcia festiwalu i stoisk:
26 maja (piątek) – godz. 16-24,
27 maja (sobota) – godz. 12-24,
28 maja (niedziela) – godz. 12-20.
Tarczyński Arena Wrocław, Al. Śląska. 1. Wstęp wolny.