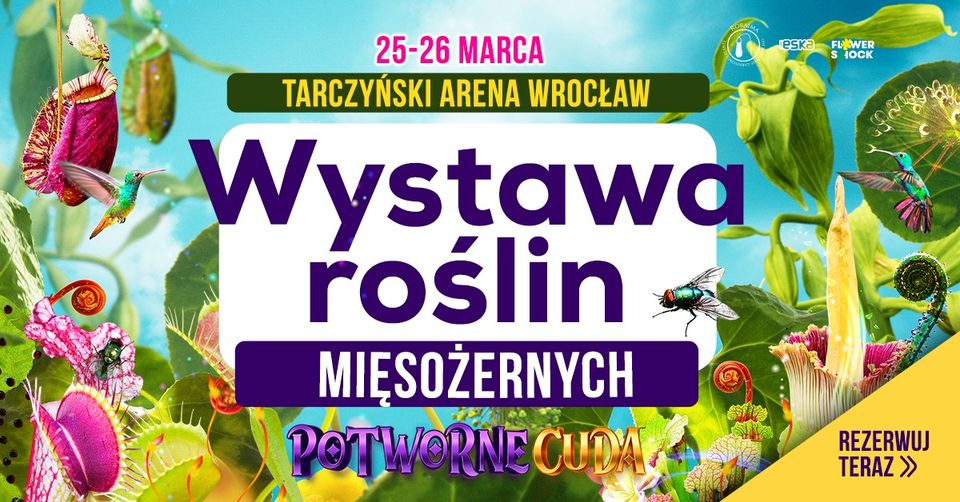 Festiwal roślin mięsożernych
Przygotuj się na prawdziwy #FlowerBOOM od FlowerShock!
Coś dla fanów adrenaliny, ale też dla miłośników subtelnego piękna! Masz ciarki na samą myśl o mięsożernych roślinach, zachwycasz się kolekcjonerskimi okazami niespotykanych roślin, a może po prostu chcesz dowiedzieć się czegoś więcej o finezyjnych orchideach? To będzie weekend pełen atrakcji! Trzy niezwykłe wydarzenia w jednym miejscu!
Sprawdź co Cię czeka 25-26.03.2023 we Wrocławiu!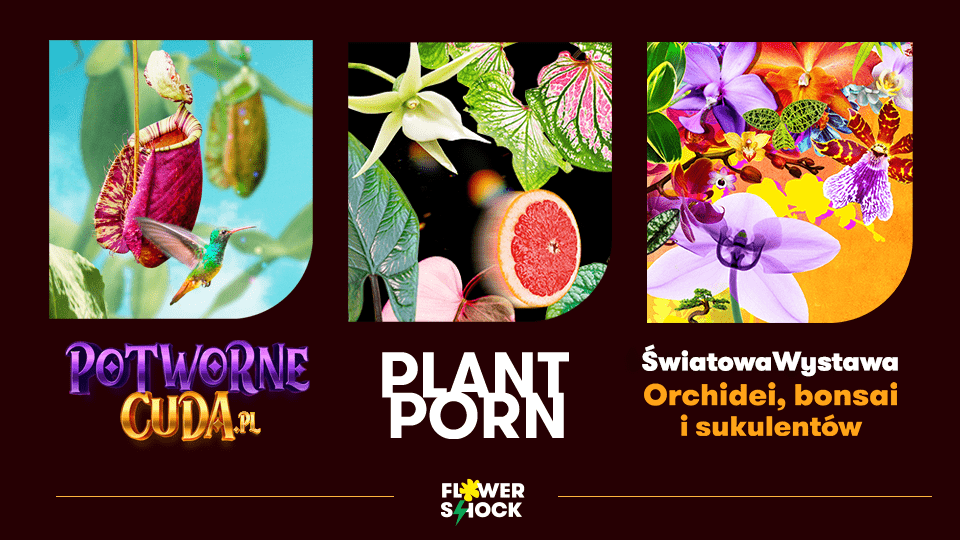 Potworne Cuda to wspaniała przygoda mrożąca krew w żyłach! Wygłodniałe owadożerne rośliny, które czekają na weekendową ucztę! Przyłączysz się?
Magiczna dżungla stworzona z roślin pochodzących z ponad 40 państw! Największa na świecie żywa wystawa mięsożernych zielonych stworów.
Jesteś ciekaw, co Cię czeka podczas tego niezwykłego weekendu?
Bajeczny świat owadożernych gigantów – przygoda odkrywania piękna i skrytych tajemnic natury. Wyjątkowe pokazy karmienia roślin, niezwykle wartościowe prelekcje i mnóstwo atrakcji dla dzieci i dorosłych.
Budzące grozę SHOW nadchodzi!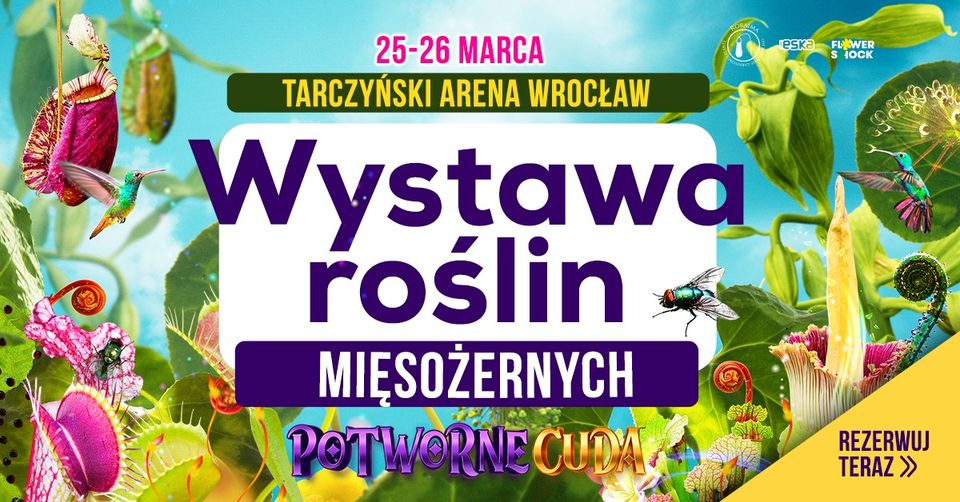 IMPREZĄ TOWARZYSZĄCĄ – ODBYWAJĄCĄ SIĘ JEDNOCZEŚNIE JEST:
🌺 ŚWIATOWA WYSTAWA ORCHIDEI, BONSAI I SUKULENTÓW 🌺

Prawdziwa kwiatowa eksplozja!
Kilkanaście tysięcy najwspanialszych orchidei, ponad stuletnie drzewka bonsai i zjawiskowe sukulenty z całego świata odwiedzą Wrocław!
Poczuj niesamowitą symfonię kolorów, kształtów i zapachów. Zobacz prawdziwe cuda natury z najdalszych zakątków globu.
⭐️ Wybitne arcydzieła bonsai prawdziwych Mistrzów. ⭐️
Unikatowe perły fantastycznych orchidei i osobliwie okrutne piękności sukulentów.
To właśnie one zagrają główną rolę w tym spektaklu! Nie możesz tego przegapić!
Największe wydarzenie o takim charakterze w Europie!
Ogromne aranżacje, niesztampowe wystawy z najciekawszych okazów z całego świata zaskakują odwiedzających Światową Wystawę w całej Polsce.
Wydarzenie jest jeszcze ciekawsze dzięki interesującym prelekcjom, pokazom i przeróżnym występom, które uświetniają całą idee Światowej Wystawy.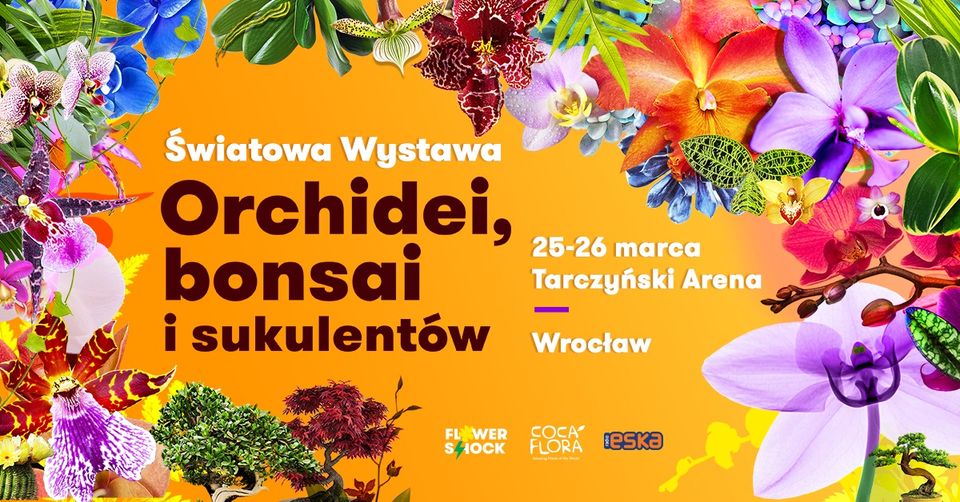 EXTRA: Dodatkowo trakcie wydarzeń zapraszamy na:
PLANTPORN – wielkie targi roślin kolekcjonerskich
Jeśli jesteś fanem roślin i chcesz się wprowadzić w ekstremalny stan zielonej euforii, to musisz przyjść i zobaczyć na żywo #PLANTPORN – czyli szaleństwo najciekawszych, topowych, najbardziej niespotykanych roślin kolekcjonerskich kiedykolwiek widziałeś!
Jeżeli marzysz o jakiejś roślinie i zawsze chciałeś ją mieć, to bardzo prawdopodobne, że podczas #PLANTPORN będziesz mógł je zobaczyć i kupić w najlepszej cenie kiedykolwiek!
Przeróżne, najwspanialsze odmiany, kultywary, gatunki philodendronów, alocasi, calathei, anthurium, aglaonem, syngonium i wiele wiele innych!
Spełnimy Twoje największe roślinne żądze!
A to wszystko w… PRZERAŻAJĄCO OKAZYJNYCH CENACH!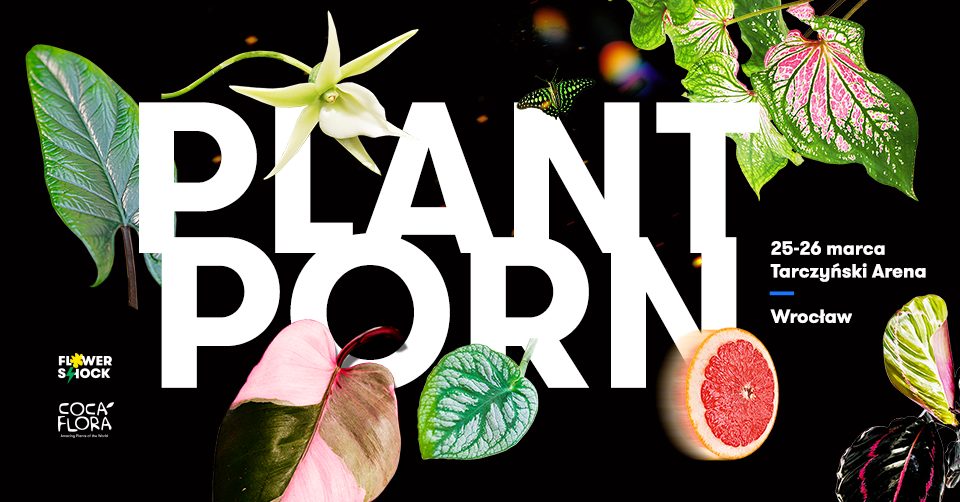 Na wszystkie wydarzenia obowiązuje jeden bilet.
Po więcej informacji prosimy o kontakt:
Paulina Puzia
biuro@flowershock.pl
Tel. +48 536 195 247