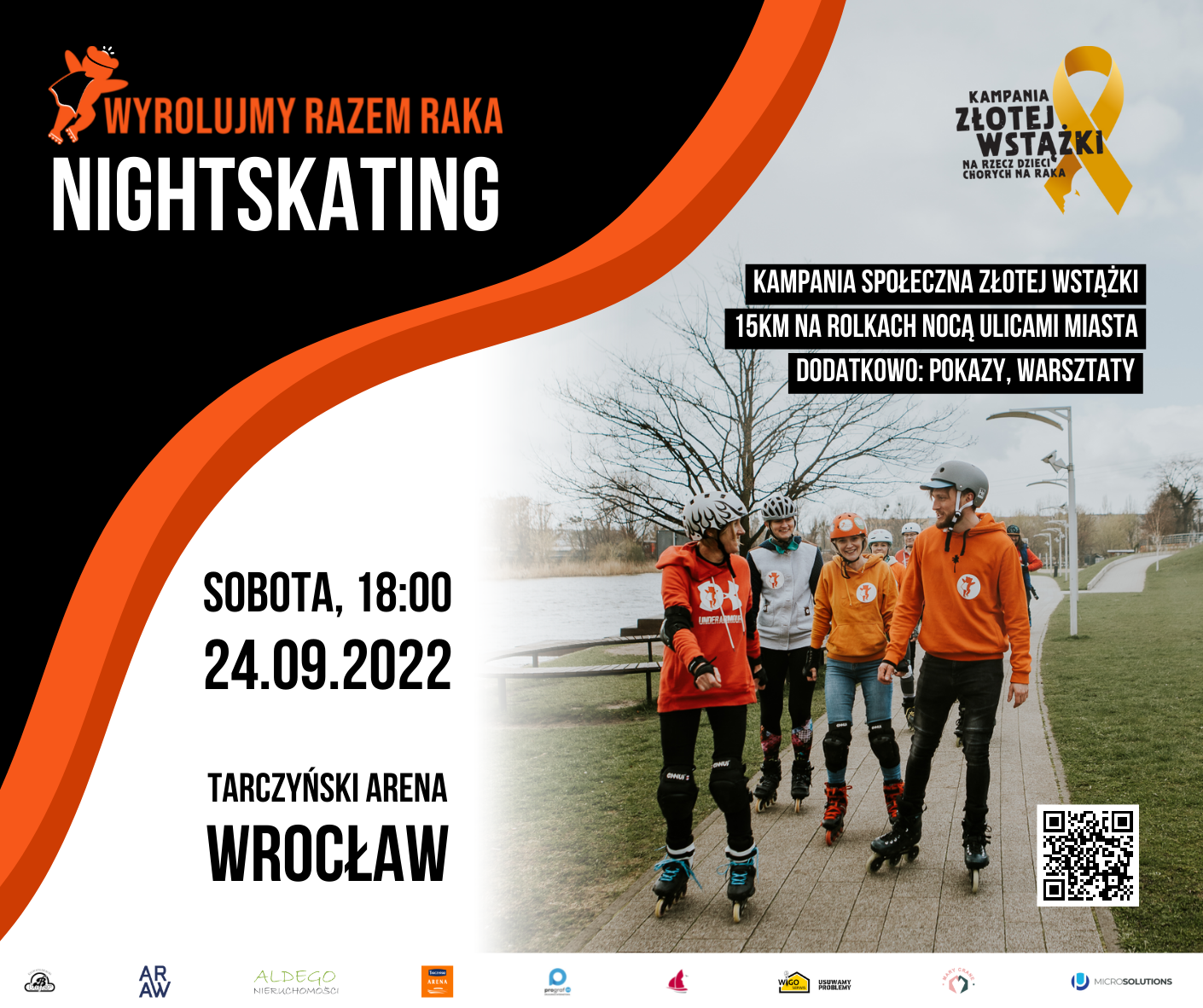 Kampania Złotej Wstążki – Nightskating
W najbliższą sobotę (24 września) nawet kilkuset rolkarzy wyruszy w wieczorną trasę przejazdu po Wrocławiu spod Tarczyński Areny. Nightskating, czyli nocna jazda na rolkach wraca do Stolicy Dolnego Śląska po trzech latach nieobecności, tym razem dodatkowo w szczytnym celu.
W wydarzeniu może wziąć udział każdy, nawet początkujący rolkarz. Wyznaczona trasa nie jest wymagająca: została wytyczona asfaltowymi ulicami, bez żadnych przeszkód. Liczy nieco ponad 15 kilometrów, co przeciętny rolkarz pokona w około godzinę – do półtorej. Nie będzie wzniesień i krawężników, a jedyna wymagana umiejętność to hamowanie. Dodatkowo, przed startem odbędą się warsztaty, podczas których można szybko nadrobić wszystkie potrzebne umiejętności. Uczestnicy startują z Tarczyński Areny Wrocław (od strony ulicy Królewieckiej), zawracają w okolicach Rynku i wracają na stadion.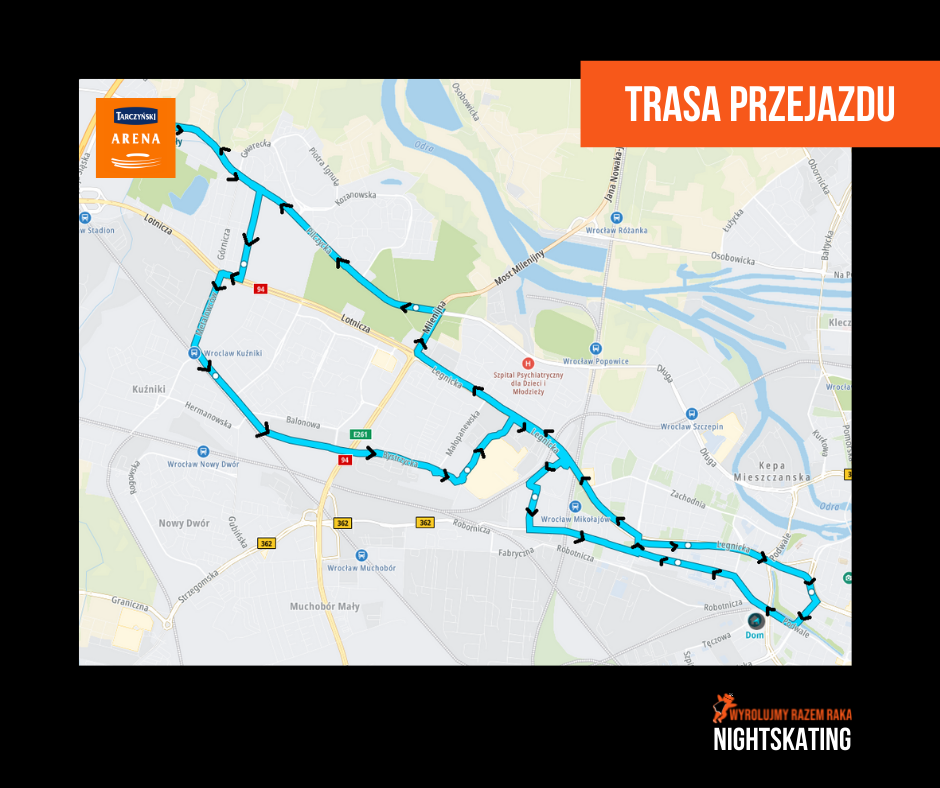 Wrocławski Nightskating włącza się w Kampanię Złotej Wstążki, mającej na celu zwrócenie uwagi na pediatrycznych pacjentów onkologicznych i ich rodziny oraz potrzebę wsparcia psychospołecznego. Wrzesień jest miesiącem świadomości chorób nowotworowych u dzieci, a jej symbol to złota wstążka. Każdego roku w Polsce u około 1200 dzieci diagnozuje się nowotwór złośliwy. Leczenie przeciwnowotworowe niesie ze sobą wiele komplikacji, również tych emocjonalnych, mentalnych i społecznych. Tegorocznym hasłem Złotej Wstążki jest: "Gdy choruje dziecko, choruje cała rodzina", ponieważ z trudnościami i wyzwaniami zmaga się nie tylko młody pacjent, ale także jego najbliżsi.
– To już trzecie wydarzenie charytatywne organizowane przez "Wyrolujmy Razem Raka" – naszą grupę rolkarskich pasjonatów – mówi Emil Nowosielski, jeden z organizatorów. Zachęcamy uczestników, by w trakcie przejazdu promowali Kampanię Złotej Wstążki poprzez przygotowanie banerów, złotych strojów, czy zabranie ze sobą czegoś, co nawiązuje do symbolu kampanii. Ponadto, kształt trasy przejazdu również nawiązuje do symbolu akcji, czyli Złotej Wstążki – dodaje Emil.
Nightskating – Wyrolujmy Razem Raka rozpocznie się na Tarczyński Arenie Wrocław o godzinie 18.00. Przejazd poprzedzą warsztaty rolkowe z instruktorami ze szkółek wrocławskich, a także pokazy rolkarskie wybitnych zawodników – między innymi Alekseya Martsenyuka, Mistrza Europy w kategorii slide i Marysi Brzezińskiej specjalizującej się we freestyle slalomie. Uczestnicy wyruszą w trasę o 20:00, a pod stadion wrócą około 22:00.