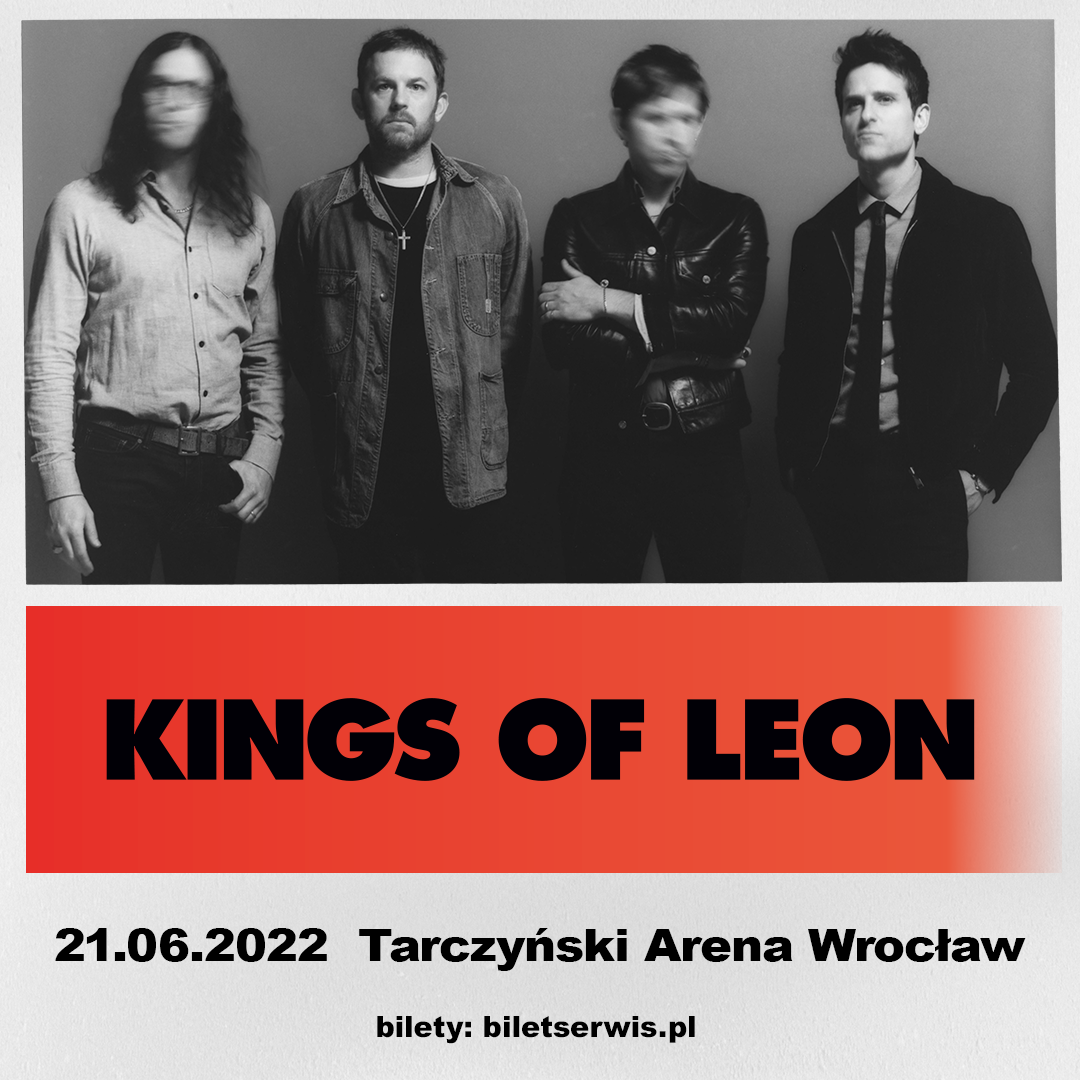 Kings of Leon
Gwiazda światowych festiwali, zespół Kings of Leon, ogłosił nowe daty swoich koncertów z europejskiej części trasy! Muzycy wystąpią 21 czerwca 2022 roku na Stadionie Wrocław. Koncert ten został przeniesiony z 2021 roku z powodu pandemii koronawirusa. Wszystkie zakupione dotąd bilety zachowują ważność.
Wejściówki w sprzedaży na biletserwis.pl
Pytania dotyczące biletów prosimy kierować na adres e-mail: bilety@imprezyprestige.com
Kings of Leon zagrają pierwszy po 6 latach koncert w Polsce! Sami artyści wyczekują go z niecierpliwością i przyznają, że tęsknią już za muzyką na żywo. To kontakt z publicznością i możliwość współodczuwania z nią muzycznych emocji jest paliwem dla kultowych "lwów'". Muzycy cenią sobie tę relację z słuchaczami tak bardzo, że w nadziei na powrót do muzyki na żywo przez rok trzymali nową, w pełni gotową płytę u siebie w szufladach! Album When You See Yourself ujrzał światło dzienne z rocznym opóźnieniem dopiero 5 marca 2021 roku.
To będzie bardzo ekscytujące, kiedy w końcu wrócimy na scenę. Zagramy wtedy jedyne takie koncerty, gdzie to my będziemy zachowywać się jak publiczność! (..) To my będziemy cali roztrzęsieni i podekscytowani! – żartuje perkusista zespołu Nathan Followill.
Pełni energii i stęsknieni za kontaktem z publiką muzycy z Kings of Leon zagrają we Wrocławiu swoje kultowe hity oraz nowości, których dotąd nie mieli szansy zaprezentować. Na koncercie nie zabraknie więc kawałków takich jak: Use Somebody, Sex on Fire czy najnowszego singla Stormy Weather.
Zespół Kings of Leon już od 18 lat nie przestaje zachwycać swoją twórczością – ich najnowsza płyta When You See Yourself to szóste z kolei wydawnictwo, które stało się numerem 1 na listach w Wielkiej Brytanii. Wielokrotnie nominowani do nagród Grammy muzycy regularnie grywają jako headlinerzy na największych światowych festiwalach takich jak: Lollapaloza w Brazylii, w Chile i w Niemczech, Rock Werchter w Belgii czy Pal Norte w Meksyku z rekordową frekwencją 105 tysięcy fanów.
W Polsce Kings of Leon zagrają 21 czerwca 2022 roku na Stadionie Wrocław.
Bilety na to wydarzenie dostępne są na stronie: biletserwis.pl
Na wydarzenie zaprasza miasto Wrocław.