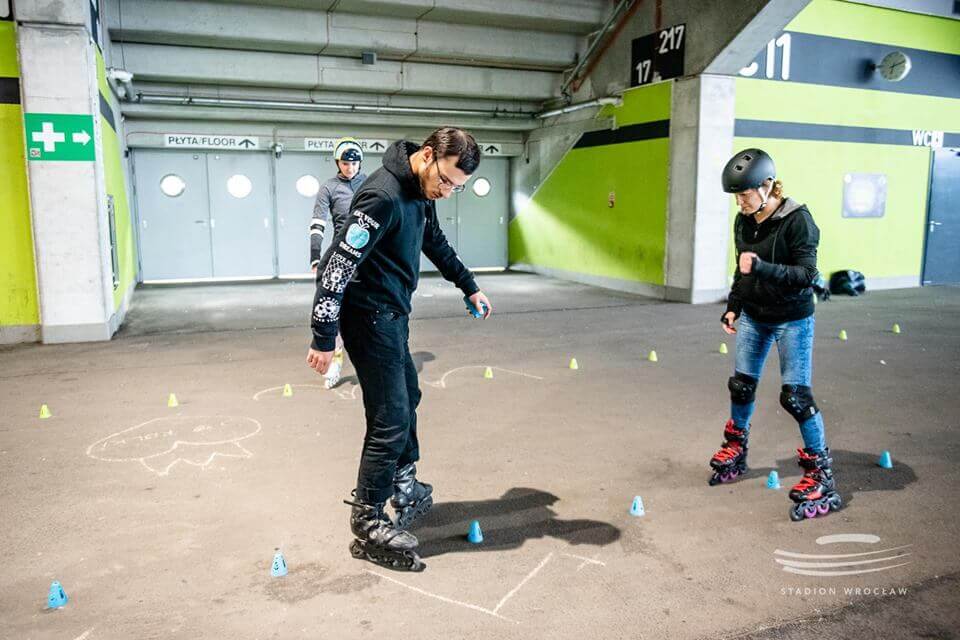 Roller semi-camp
We invite children between the ages of 5 and 16 to participate in roller skates at the Wrocław Stadium!
During the stay we provide 3 advancement groups: basic, intermediate and slalom
As part of the basic group, children will learn: correct forward driving, turning, basic braking techniques, improve their balance and motor skills, improve the technique of pushing, jumping basics, climbing and descending obstacles, descents from basic obstacles, master the basics of driving backwards .
The intermediate group is for children who can already do everything from the basic group. Our semi-colony will allow you to learn: advanced techniques of turning (slips, hockey turns), jumping over obstacles, improving reverse travel, smooth front-back, rear-front changes, advanced braking techniques, the basics of freestyle slalom, the basics of urban driving including exits big obstacles.
The slalom group will focus on improving freestyle slalom skills already acquired. We invite all children already familiar with the slalom. Required skills from the intermediate group and knowledge of the tricks: cross, back cross, snake, back snake, crazy, mabrouk
Offer:
Turnus: 10.02-14.02.2020
price: PLN 639
– Care 7.15-16.30
– 2 roller-skating sessions
– a different highlight of the day every day
– start-up with a certified personal trainer (adapted to the needs of children)
– Second breakfast, dinner, water, tea
– insurance
– qualified staff and animators
– 100% fun