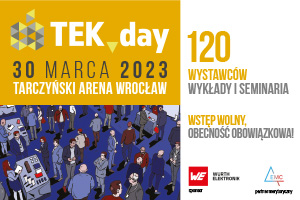 TEK.day Wrocław II edycja
30 marca 2023 na wrocławskim stadionie Tarczyński Arena obędzie się druga edycja TEK.day Wrocław. Nasze spotkanie z Wami bardzo się rozrośnie: zajmie dwie kondygnacje a liczba wystawców przekroczy 120.
Dla tych, którzy jeszcze nie byli na naszym spotkaniu: TEK.day to jednodniowe spotkania, dedykowane dla osób profesjonalnie związanych z przemysłem elektronicznym: projektantów, specjalistów montażu, project managerów czy osób zarządzających łańcuchem dostaw. Pierwsze takie spotkanie odbyło się 31 marca 2022 i zgromadziło blisko tysiąc osób.
TEK.day to przede wszystkim targi w formule table-top. W porównaniu do pierwszej edycji liczba wystawców wzrosła niemal dwukrotnie – jest ich obecnie 120 – a część targowa zajmie dwa poziomy Business Klubu na Tarczyński Arena. Po covidowej przerwie wszyscy odczuwają głód osobistych spotkań, to znakomita okazja do odświeżenia starych kontaktów i nawiązania nowych w swobodnej, niezobowiązującej atmosferze. Z drugiej strony, problemy w łańcuchu dostaw wciąż nie ustępują, a w takich warunkach, liczne kontakty i alternatywne źródła zaopatrzenia stają się po prostu niezbędne. Przyjdź, spotkaj się z partnerami z branży i przekonaj się sam, jak wiele swoich zawodowych wyzwań możesz rozwiązać w jeden dzień.
Wśród 120 wystawców znajdziesz wszystkich kluczowych dostawców komponentów, kilku dostawców PCB, firmy EMS, producentów wiązek czy dostawców sprzętu do montażu.
Podczas spotkania można też pogłębić swoją wiedzę – przygotowaliśmy 8 wykładów, a wśród wykładowców specjaliści z firm EMC4B, Wurth Elektronik, Best Supply, Hamamatsu, FlowCAD, Milar i Mycronic. Pamiętajcie: w tym roku przenieśliśmy wykłady do specjalnie wydzielonej sali przy naszej recepcji, tak aby zapewnić Wam wszystkim najwyższy komfort słuchania. O wysoki poziom wykładów zadba nasz partner merytoryczny, EMC4B, firma szkoleniowa z wieloletnim doświadczeniem. Warto przyjść na TEK.day już z samego rana, bo pierwszy wykład o zgodności produktów z formalnymi wymogami rynku przeprowadzi właśnie Tomek Utkowski, spiritus movens EMC4B. Od wykładów Ewy Załupskiej nie można się oderwać, czego z przyjemnością doświadczyłem na własnej skórze (11.45), a Teoria chaosu w branży półprzewodnikowej Jacka Małeckiego też będzie prawdziwym przeżyciem (10.15), natomiast pozostałe wykłady to zawsze solidna dawka wiedzy.
Sponsorem całego wydarzenia jest firma Wurth Elektronik
Dla każdego wstęp jest bezpłatny, każdemu zapewniamy też serwis kawowo-przekąskowy przez cały dzień oraz smaczny lunch od 12.30 do 14.00. Jedyne co musisz zrobić, to zarejestrować się na stronie targów https://wroclaw.tekday.pl/, najlepiej już teraz. Jeśli lubisz nasz portal i chciałbyś spotkać się z zespołem tek.info.pl, zapewniamy że nam też będzie bardzo miło spotkać Was wszystkich w realu J